Trusted By Small & Medium Size Businesses Worldwide
Expert Marketing Dashboard Templates,




Ready To Go In A Few Clicks
Quickly and Securely Connect Your Data Sources in
Quickly connect your Social Media Ad platforms with Arena Calibrate's secure and seamless plug & play data connection process.
Performance Analytics Dashboards Generated Within
Your connected data automatically populates into your dashboard for one source of truth, and there is no technical set up required!
Premium Marketing BI Dashboard Features and Insights
Expert made out-of-the-box templates help you make smarter decisions across your campaign immediately!
Social Media Ads

Dashboard
Want better visibility on your Social Media Ad across Facebook Ads and LinkedIn Ads performance? or which ad channel is driving more clicks or conversions across your website? Use Arena Calibrate's pro dashboard tool to view all performance in one place without needing any messy technical set up.
Cross-Platform Reporting Dashboard
Automated Campaign Insights & Alerts
KPI Tracking
Dynamic Timeframe & Channel Filtering
Quick Filter Graphs, Charts & Tables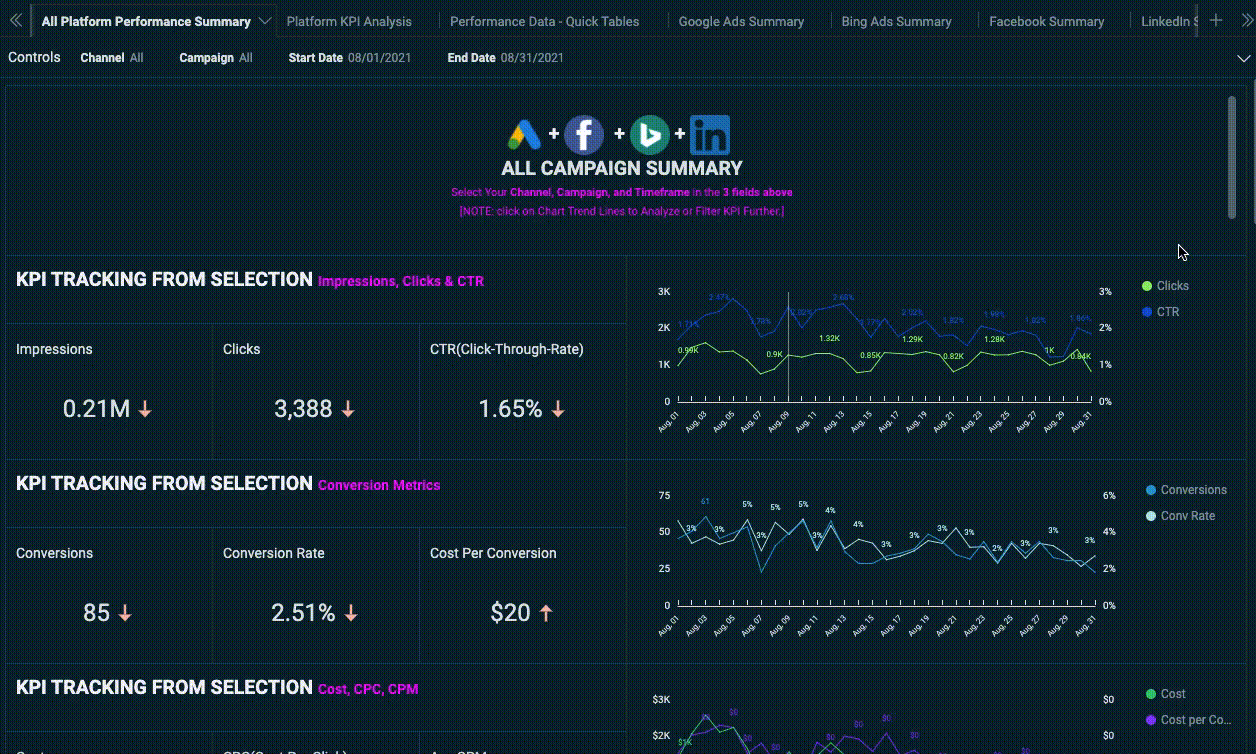 All Dashboard Tech Built-In Automatically For Speed, Scale, And Ease of Use
Saves hours of analysis work, no need to pull and upload data across platforms.
No Coding, No SQL, or BI Engineering Needed
Use our base marketing templates, or let us customize your dashboards to fit your exact needs. We make this look easy.
100s of Connectors + Automated Pipelines
Connect your CRM, Marketing Automation, and Paid Media Platforms - Your campaign performance data is always up to date.
Campaign Performance Alerts
Reliable campaign insights and performance summaries are automatically generated to save analysis time
Arena Calibrate maintain platform API connections so your campaign data is refreshed daily.
Advanced Goal & KPI Tracking
Quickly understand how your campaigns are tracking toward your monthly KPI goals.
Ready For A Smarter Marketing Dashboard?
Great Insight Happy Customers.
Vice President, EnergyLogic LLC
Arena Calibrate dashboards have given us tremendous insights into ROI of our campaigns. We have real-time, customized data on our entire marketing and sales engine. Also, the team is able to provide data evidence to our business questions. The information we're gathering is allowing us to make data-driven decisions.
Performance Marketing Manager, Eventgroove
I use Arena Calibrate on a daily basis to stay plugged into our performance. It's an extremely efficient tool to view every angle of our paid channels' performance. Detailed reporting and easy drill-downs make campaign analysis quick and allows me to focus more on strategic planning rather than pulling the numbers.
Saves me a lot of time that I used to spend manually collecting reports. I like the SEM insights feature which lists keywords that are not performing, and the quality score report.
Great tool that helps us manage our ad spend during a PR spike. I love how it integrates data from multiple sources to give us the data we need at our fingertips. No more crawling through Google Analytics, Amazon, and Google Ads – it's all in one place!
USA
2880 Lakeside Drive, STE 131
Santa Clara, CA 95054